Zveřejněno:

18.08.2017

Autor:

Bohumil Čáp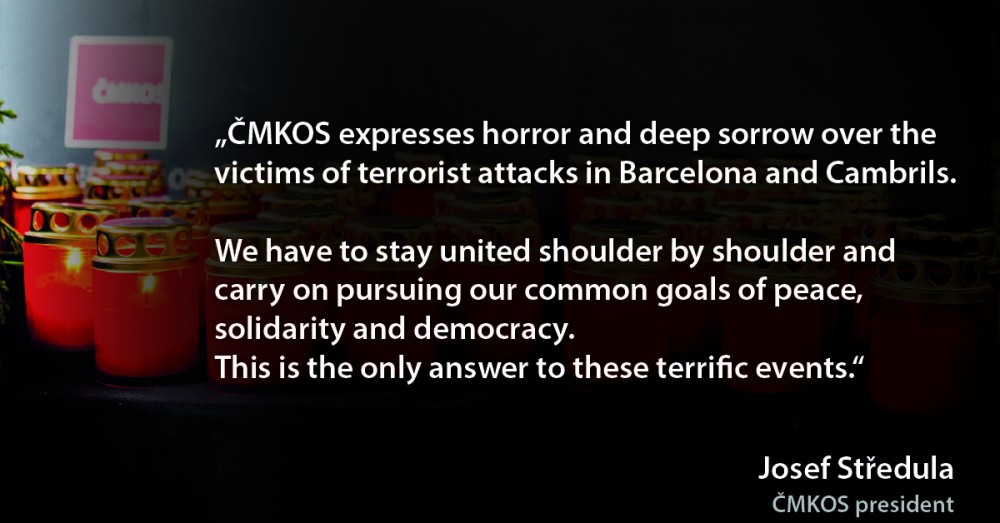 To our Spanish sisters and brothers:


Dear Colleagues, Dear Friends,


On behalf of Czech workers, the Czech-Moravian Confederation of Trade Unions expresses horror and
deep sorrow over the victims of terrorist attacks in Barcelona and Cambrils. We stand in solidarity primarily
with those who are still fighting for their lives, with those who will bear the results of injuries for the
rest of their lives, with the families who lost their loved ones, with their friends and colleagues – our
brothers and sisters, trade union colleagues, our friends.


We admire the openness and staunchness Spanish citizens and society are showing in these days. 
We believe your democracy and its institutions to prove to be resilient enough not to succumb to such acts of desperate and senseless violence.


We have to stay united shoulder by shoulder and carry on pursuing our common goals of peace,
solidarity and democracy. This is the only answer to these terrific events.


Our thoughts are fully with you.


Josef Středula, ČMKOS President